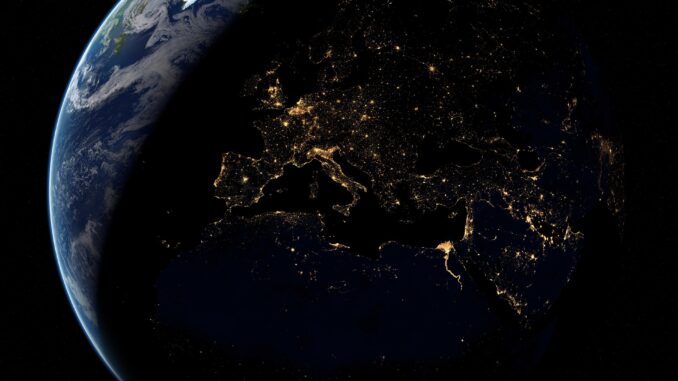 "I'm doing all right, getting good grades, The future's so bright, I gotta wear shades"… sang Timbuk 3 and I gotta agree – I think the future is still bright (although that song was more about the risk of nuclear holocaust). Set aside the climate challenges, we have a global economy that is based on free trade between a lot of countries, and trade is ultimately what makes life better for everyone.
Still, there are clouds on the horizon. Dictatorship, trade wars, possibly climate wars, the fact that never ending growth is impossible, and more. The latter might be the biggest obstacle against a healthy global economy. The planet can't sustain more people, yet many countries are still growing in their populations and we certainly haven't reached the climate goals.
However, I do think there are still room for the global economy to grow. For one thing, there is a lot of innovation going on across the globe. Especially in new technology, such as Artificial Intelligence, but also in sustainable solutions, pharmaceutical, food production, machinery and more. Innovations lead to new businesses, new trade routes and even more innovation.
As such, one area I believe is about to explode (let's hope not literally), is space exploration. The foundation for space tourism has been laid, but there is an ongoing new race to the moon (and Mars). But the real development will come when space mining kick off, which I'm pretty sure it will since rare metals are becoming even more rare on earth. Once that happens, completely new businesses with a lot of completely new trade routes will be established.
Also, there are still emerging markets that I believe will be able to start trading more freely. Countries need to develop stable democracies to be able to get better effect from free trade, and I think the process will continue. At the end of the day, all humans want the same basics. Freedom, abilities to create a stable, healthy life, and do this in a secure environment.
So, the future is still bright and I believe the global economy will continue to grow. The pandemic certainly challenged us, but we will overcome that as well. Companies in the healthcare and pharmaceutical sectors will certainly benefit from the insights the pandemic gave us, as will companies that deal with security and stability.
Another thing the pandemic taught us was that it really is no problem to work wherever you want. That is, if you are an office worker of course. But this mean that telecom companies will benefit from the ongoing increasing need of bandwidth. 5G is being built across the globe and in addition, there are still millions of people that don't have access to the internet. That will for sure change, as the development of digital services continue.
Food will be needed in the future as well, and healthy food is a priority. Fast food chains have struggled with the fact that youngsters are more aware of their health, and as such they have been forced to broaden the menu to include more healthy options. I believe this trend will increase, as lifestyle related diseases are growing as well.
That's some of my thoughts. Please share your thoughts on the future of the global economy.