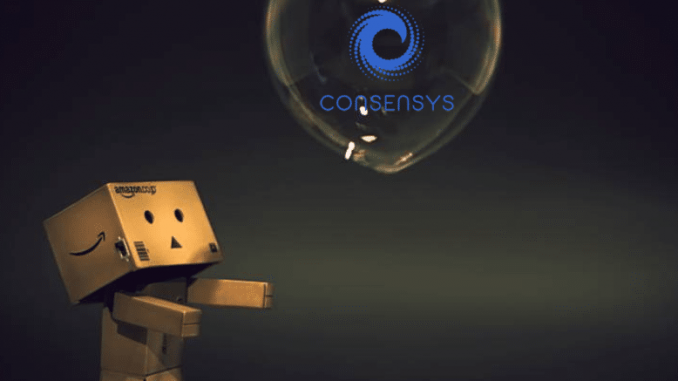 Introducing Kaleido, Amazon's Foray into Blockchain
Amazon just made its entrance into the blockchain industry, and it's opening the door with a platform that's meant to make it easier for businesses and enterprises to implement the nascent technology.
The web services monolith has partnered with the Ethereum incubator ConsenSys to bring the Kaleido Blockchain Business Cloud platform, "an all-in-one blockchain platform aimed at speeding and simplifying enterprise use of the technology," to the Amazon Web Service's Marketplace.
According to an official press release by Amazon, "Kaleido provides a full solution for those ready for something more than do-it-yourself scripts or templates, streamlining the process of standing up secure, private blockchain networks without sacrificing the ability to customize the environment. These private networks offer all the benefits of the underlying blockchain technology, while maintaining the necessary levels of security and performance."
In essence, Kaleido was developed to lower those barriers of entry, both technical and financial, that have kept organizations from applying or experimenting with blockchain technology for their business operations.  The brain-child of ConsenSys, Kaleido runs on Amazon's Web Services (AWS) and is available on the AWS marketplace. Featured in AWS's suite of applications, Kaleido is compatible with Amazon's existing web services, including Amazon EMR, Amazon Athena, and Amazon Virtual Private Cloud, among others.
A Hybrid Approach to Enterprise Blockchain Networks
When attempting to implement and deploy blockchain networks, companies often run into insurmountable or costly obstacles. Confronted with a technical labyrinth of consensus mechanisms, governance models, and coding languages–not to mention the lexicon of technical jargon that accompanies these–implementing blockchain solutions can become more of a hassle than the problems they seek to fix.
"Customers are running into a common set of problems and pitfalls as they invest significant time and money in their blockchain projects," Steve Cerveny, ConsenSys' enterprise lead and founder of the Kaleido platform explains. "So, we assembled a team to build a platform that pulls together—in a simple, cohesive, and unified way—the right experiences and tools. We knew we needed to design a platform from the business problems down, since that is where the enduring problems are that companies face in the blockchain space."
Kaleido's private-public approach to system operations looks to provide organizations with the immutable security of a public blockchain without compromising the flexibility of a private network. This "dual mode" allows Kaleido's users to link a private, permissioned system built on Ethereum to the public, permissionless Ethereum network at large. Actions on the private chain, therefore, are anchored to the Ethereum mainnet, making it easy to publicly verify any data or information should a conflict arise internally within an organization's private system.
In addition to these relay anchors, Kaleido features integrated analytics and support for various consensus mechanisms (e.g., IBFT, RAFT, POA) and protocol options (e.g., Geth and Quorum).
A Step Towards Accessibility 
In 2015, ConsenSys attempted to bring similar enterprise solutions to the forefront of the tech industry's attention with Ethereum Blockchain as-a-Service (E BaaS) through Microsoft's cloud-powered Azure. E BaaS, though, was a sandbox service that offered its users a set of scripts and basic tools to begin building their own blockchain applications.
Kaleido takes E BaaS's precedent a step further. More than mere scripts and tools, it is a fully-functional, ready-to-deploy blockchain platform available through Amazon's cloud. This will allow entities with no former blockchain experience or coding talent to launch solutions that meet their privacy, compliance, and sclability needs while retaining the blockchain's public assurance of security and reliability.
As the first ever blockchain software as a service built on Ethereum, Kaleido could be an augur for the future of blockchain's mainstream and conventional adoption.
"Since the inception of ConsenSys in 2014, we have been on a mission to accelerate the adoption of Ethereum and all the benefits that decentralization can bring to business and societies around the world," states Joseph Lubin, co-founder of Ethereum and founder of ConsenSys. "We believe Kaleido will become a de-facto standard and a global blockchain platform for business, providing an underlying foundation that until today was missing from the enterprise toolkit."
This article by author Colin Harper was originally published on Coincentral. Republished with permission.