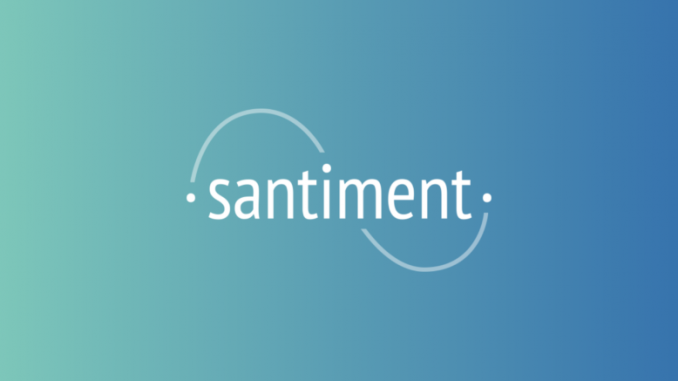 What Is Santiment?
Santiment is a cryptocurrency data feed for investors. The goal of the Santiment team is to become the Bloomberg of the crypto market.
The current investment landscape is riddled with misinformation, and verifiable resources are few and far between. Because the industry is largely unregulated, you have to commonly deal with market manipulation through fake buy/sell orders, nefarious promotions, insider trading, and news cycles that either push up the price of a coin to unsustainable levels or crush a project through FUD (Fear, Uncertainty, and Doubt). It's difficult to find reputable sources to pull data and information from.
Santiment wants to help beginner and expert investors alike by providing an objective feed of market data, sentiment analysis, and blockchain activity. All this in the hopes of helping you make more informed investment decisions in an industry that can be ripe with BS.
In this Santiment guide, we'll go over:
How Does Santiment Work?
The Santiment platform includes a few different information hubs for you to access objective, reliable information. The information in these hubs is curated by blockchain experts and sourced from only the most accurate data.
Content Streams
Santiment content streams include regular, up-to-date market content similar to a newsletter. The content covers ICO analysis and major coins as well as worldwide regulations and market research. As an investor, you get to choose which content you subscribe to.
Because this type of information can easily fall into the subjectivity trap, Santiment uses the collected analysis of industry experts to expose content providers with questionable intentions.
Santiment Database (SANbase)
The SANbase is a crowdsourced database of cryptocurrency projects. It includes relevant project information such as the team's history and the economics behind the coin. The platform also provides a suite of tools to help with your analysis.
Although the SANbase is crowdsourced, Santiment once again uses a panel of experts to ensure that the information is accurate. Over time, the team hopes to figure out a way to further decentralize this information without sacrificing its quality.
Datafeeds
The final piece of the Santiment puzzle is in its datafeeds. Santiment combines market information from numerous sources into three datafeeds:
Sentiment datafeeds: These datafeeds measure how the community at large feels about different coins. This is the main driving force behind the "shill" and "FUD" cycles commonly seen in projects.
Blockchain datafeeds: These feeds monitor the activity across different blockchains. You can use these to see which coins are seeing the most volume as well as track the movement of large investment "whales".
Crowdsourced datafeeds: All of the other feed types fall into this category. These feeds allow users to contribute information that may have been previously unavailable to the public.
Santiment Network Token (SAN)
There are a total of 83,337,000 SAN tokens that exist with a little over 62,500,000 currently in circulation. The majority of the tokens (72%) were distributed to presale and crowdsale contributors during the ICO. SAN is an ERC20 token.
The SAN tokens serve three functions on the network:
Payment. To access data feeds, you need to pay SAN. You do so through either a subscription service or data auction.
Stake. As a SAN holder, you can also stake your coins to access some Santiment services. This encourages institutional partners to stake large amounts of SAN and give access to their own user base, further growing the ecosystem.
Reward. If you contribute data to the network, you receive SAN as a reward. This is what powers the crowdsourced datafeeds.
Santiment Team & Progress
Maksim Balashevich founded Santiment in August 2016. Not your typical blockchain founder, Balashevich spent 7 years studying meditation, yoga, and you probably wouldn't have guessed it, modern financial systems. Although no team members have any other notable blockchain projects under their belt, CTO Valentin Mihov won the silver medal on the International Olympiad in Informatics in 2004.
In July 2017, the Santiment team held an ICO in which they reached their 45,000 ETH goal. The team refreshingly believes in project transparency, even dedicating an entire page on their website to it.
Santiment has already built an alpha mobile app with historical pricing data and some sentiment analysis. They've also launched the SANbase which you can check out here. It's similar to CoinMarketCap but includes additional, useful information for each project such as the fund spending and developer activity. In the past year, they've expanded the SANbase to include social media trend tracking, research tools, APIs, and a forum to share your findings. The next feature on their roadmap are trade signals.
The team is partnered with Iconomi, Brave New Coin, and the Blockchain Research Lab to help bring their project to life.
Competition
A few other projects are tackling the same problem space as Santiment but with different solutions. Signals Network is relying on machine learning in combination with crowdsourced data to help traders. Cindicator is gamifying predictions to produce the wisdom of the crowd effect. And, Enigma Catalyst is working to improve quantitative trading.
Trading
Post-ICO, the Santiment price remained relatively flat at around $0.20. Starting in November 2017, though, SAN tokens began drastically increasing in value reaching an all-time high of close to $8.00 (~0.0005 BTC).  This followed the rise of most altcoins during that time.
With that, the SAN price also fell dramatically in the middle of January 2018 along with the majority of the market. Since then, it has continued to fall with only two significant price jumps along the way in February 2018 and April 2018. The price currently seems to have bottomed out at about $0.43 (~0.000069 BTC)
Now that SANbase is available, adoption and use of the SAN token will have the most impactful effect on the price. Interestingly, SAN is probably more affected by the overall market sentiment (bearish or bullish) than other cryptocurrencies. In a bear market, the SAN price faces natural downward pressure and fewer people are likely to use SANbase because of the decreased interest in trading caused by the market. In a bull market, the opposite holds true.
That being said, it wouldn't be surprising to see the price jump with each feature releases. Additional partnership announcements should also have a positive influence on the price.
Where to Buy SAN
SAN tokens are currently traded with the most volume on LAToken, but you may want to check out Ethfinex instead. Ethfinex is a hybrid decentralized exchange operated by and connected to Bitfinex. You can trade BTC, ETH, or USD for SAN on the exchange.
You can also exchange BTC, ETH, or USDT for SAN on Liqui and OKEx.
Where to Store SAN
As an ERC20 token, you have a multitude of wallet options to store your funds. For the most security, use a hardware wallet like the Ledger Nano S. MyEtherWallet is a great, free option for you to use as well. Any wallet with ERC20 support should suffice.
Conclusion
Santiment is an all-in-one feed source of objective cryptocurrency information. It includes unbiased news, project analysis, and a boatload of other data. Still in its early days, you can check out the SANbase for yourself here.
With the amount of misinformation and unethical promotion currently in the industry, the Santiment team is taking steps in the right direction in their mission to better inform traders of all experience levels.
Editor's Note: This article was updated by Steven Buchko on 11.01.2018 to reflect the recent changes of the project.
This article by author Stephen Buchko was originally posted on CoinCentral. Republished with permission.